Watch Video Livestream at YouTube:
Watch individual sessions from Nordic Innovation Summit at the bottom of this page. Sessions also available at YouTube/NordicMuseum.
Sustaining Sustainability in a Rapidly Changing World

Join us as founders, corporate leaders, and other innovators from the Nordic countries and the U.S. showcase projects that demonstrate opportunities to do well by doing good — even in challenging times.

Keynotes Include:
Henrik Henriksson, CEO of H2 Green Steel, will share how his company is powering a new, clean industrial revolution by removing 95% of the carbon emissions from one of the world's dirtiest industries.
Stephen Elop (Digital.ai) will discuss the Nordic approach to sustainable leadership
Áslaug Arna Sigurbjörnsdóttir, Iceland's Minister of Education, Science, and Innovation, will lead a special session on Iceland's fisheries on May 10 and speak in the morning session on May 11.
Frank Vang Jensen (Nordea) holds a Fireside Chat on "The Preferred Financial Partner in the Nordics Has Sustainability at its Core."
Chris Cooper, CEO of Neste US, will make the case that investing in sustainability is more relevant than ever.
Pippa Boothman, CEO of Playfinity, will discuss how to make a more active future for happier, healthier kids.
Gov. Jay Inslee (Washington) will open the afternoon session on May 11 with a talk about Washington State business opportunities and collaborations with Nordic companies.
Additional speakers and sessions can be found below.
Agenda
Click on title of section to expand for full description of speakers and program.

Registration will be open all day

Location: Osberg Great Hall, First Floor, National Nordic Museum

Welcome and Opening Remarks

Eric Nelson (Executive Director/Chief Executive Officer, National Nordic Museum)
Chris Green (Assistant Director for the Office of Economic Development and Competitiveness, Washington State Department of Commerce)
Birger Steen (Chair, Nordic Innovation Summit)

How Economics Can Save the World: Simple Ideas to Solve Our Biggest Problems,

Dr. Erik Angner (Professor of Practical Philosophy, Stockholm University)

The Future of Electric Boats

Jon Roskill (Chair, X Shore)

Sustainable Opportunity in the US for Nordic Companies

Aimee Meester (Chief Executive Officer, Madison Taylor Marketing)

Break

Introduction

Tuula Rytilä (fmr Corporate Vice President, Microsoft)

How We're Making Norway the World's Most Attractive Travel Destination

Torunn Tronsvang (Founder & Chief Executive Officer, Up Norway)

Creating the Irresistible Sustainable Urban Future – by Nordic Principles

Martine Kildeby (Head of Strategic Partnerships, BLOXHUB)

Introduction to Sustainable Urban Spaces

H. E. Christina Markus Lassen (Ambassador of Denmark to the US)

Panel: Sustainable Strategies in Architecture: From Scandinavia to the US

Kai-Uwe Bergmann (Partner, Bjarke Ingels Group: BIG)
Aaron Dorf (Director, Snøhetta)
Martine Kildeby (Head of Strategic Partnerships, BLOXHUB)
Moderator: Peter Cohan (Owner, Peter Cohan Architect, and Associate Professor of Architecture, University of Washington)




Location: Osberg Great Hall, Fisherman's Sun Terrace, and Lobby, First Floor, National Nordic Museum

Refreshments included with ticket

Dr. Angner's book must be purchased separately from the Museum Store
Location: Lobby and Fisherman's Sun Terrace, First Floor, National Nordic Museum

Light breakfast included with ticket

Location: Osberg Great Hall, First Floor, National Nordic Museum
These sessions will be live streamed on the National Nordic Museum's YouTube channel.

Welcome and Opening Remarks

Eric Nelson (Executive Director/Chief Executive Officer, National Nordic Museum)
Washington State Department of Commerce
Mayor Bruce Harrell (City of Seattle)

Introduction

Tuula Rytilä (fmr Corporate Vice President, Microsoft)
Birger Steen (Chair, Nordic Innovation Summit)

Volta Zero, the Medium Duty Truck from the Future, Will Save Our Cities and x Ktons of CO2

Kjell Walöen (Chief Manufacturing Officer and Co-Founder, Volta Trucks)

Powering a New, Clean Industrial Revolution

Henrik Henriksson (Chief Executive Officer, H2 Green Steel)

Reducing Maritime Emissions from Bellingham

Ole Jacob Irgens (President Americas, Corvus Energy)

The World's Most Environmentally Friendly Mineral Fertilizer

Jakob Liedberg (Chief Executive Officer and Founder, Cinis)

Panel: Scaling Symbiosis: Nordic-US Knowledge Transfer and the US Opportunity for Nordic Companies

Rep. Beth Doglio (State of Washington)
Robert Duff (Sustainable Business Development Director, Washington State Department of Commerce)
Jacob Liedberg (Chief Executive Officer and Founder, Cinis)
Lisbeth Randers (Head of Secretariat, Kalundborg Symbiosis)
Carrie Song (Vice President Americas, Renewable Road Transportation)
Moderator: Rhys Roth (Executive Director, Center for Sustainable Infrastructure)

Mid-morning Break

Introduction

Birger Steen (Chair, Nordic Innovation Summit)

Sustainable Leadership–What Can We Learn from the Nordics

Stephen Elop (Executive Chairman, Digital.ai)
Tuula Rytilä (fmr Corporate Vice President, Microsoft)

Cradle to Cradle: Long and Multiple Lives for the Most Beautiful Entertainment Products

Juha Christensen (Chair, Bang & Olufsen and Vice Chair, Netcompany)

Gamifying Sports to Make Kids Active, Happy and Healthy

Pippa Boothman (Chief Executive Officer, Playfinity)

Introduction to Datacenters, Sustainability, and Interconnectivity

H. E. Áslaug Arna Sigurbjörnsdóttir (Minister of Higher Education, Science, and Innovation, Iceland)

Panel: Datacenters, Sustainability, and Interconnectivity

Keynote: Einar Hansen Tómasson (Head of Energy and Green Solutions, Business Iceland)
Ernest Popescu (Vice President, Iron Mountain)
Thorvardur Sveinsson (Chief Executive Officer, Farice)
Vala Valthorsdóttir (Business Development Manager, Landsvirkjun)
Moderator: Isaac Kato (Investor-in-Residence, Techstars Seattle Accelerator)

No Green Without Digital

Nishant Batra (Chief Strategy and Technology Officer, Nokia)

Location: Fisherman's Sun Terrace, First Floor, National Nordic Museum

Lunch and beverages included with ticket

Location: Osberg Great Hall, First Floor, National Nordic Museum
These sessions will be available for viewing on YouTube and My Nordic at a later date.

Introduction to the Afternoon Session

Tuula Rytilä (Master of Ceremonies, Nordic Innovation Summit)

Washington State is Open for Sustainable Business

Governor Jay Inslee (State of Washington)

Panel: Bridging the EU Green Deal and the IRA for Maximum Mutual Impact and Benefit

Governor Jay Inslee (State of Washington)
Julie Johnson (Head of Market Development & Growth Strategy, North America)
H. E. Christina Markus Lassen (Ambassador of Denmark to the US)
Ole Jacob Irgens (President Americas, Corvus Energy)
Donna Warndof (Head of Public Affairs, Americas, Neste)
Moderator: Peter Rykman (Senior Business Development Manager, Rystad Energy)

Introduction to Measuring Women's Real Economic Impact in the Market

H. E. Bergdís Ellertsdóttir (Ambassador of Iceland to the US)

Measuring Women's Real Economic Impact in the Market

Freyja Thorarinsdottir (Founder & Chief Executive Officer, GEMMAQ)

Fireside Chat: The Preferred Financial Partner in the Nordics Has Sustainability at its Core

Frank Vang Jensen (Chief Executive Officer, Nordea)
Dr. Robert Strand (Executive Director of the Center for Responsible Business)

Infinite Clean Energy through Fusion Power

Erik Odén (Executive Chair, Novatron Fusion Group)

Beer Break

Introduction

Birger Steen (Chair, Nordic Innovation Summit)

Panel: Innovation in the Fisheries Sector and Sustainability

Keynote and Moderator: Dr. Thor Sigfússon (Founder & Chief Executive Officer, Iceland Ocean Cluster)
Keynote: Anna Kristin Pálsdóttir (Executive Vice President, Innovation, Marel)
Elína Erlendsson (Director of Global Human Resources, Kerecis)
Einar Gustafsson (Chief Executive Officer, American Seafoods)
Lisa Jennerwein (Kerecis Owner at Physicians Medical Resources LLC)
Thorsteinn Sigurdsson (Chief Executive Officer, Marine and Freshwater Research Institute)
Thorvardur Kjerulf Sigurjónsson (Business Manager for Fisheries Management Solutions, TrackWell)
Ingvar Vilhjálmsson (Chief Executive Officer, WiseFish)

Sustaining Sustainability in the Energy Industry

Chris Cooper (President, Neste US)

Panel: Sustainable Aviation

Reuven Carlyle (former Washington State Senator; Co-Founder and Chief Sustainability Officer, Earth Finance)
Chris Cooper (President, Neste US)
Pasha Saleh (Head of Corporate Development, Alaska Air)
Dale Smith (Regional Director, Enterprise Environmental Sustainability, Boeing)
Moderator: Brian Young (Director of Economic Development, Clean Technology Sector, Washington State Department of Commerce)

Closing Remarks, Birger Steen (Chair, Nordic Innovation Summit)




Location: Fisherman's Sun Terrace, First Floor, National Nordic Museum

Included with ticket
Testimonials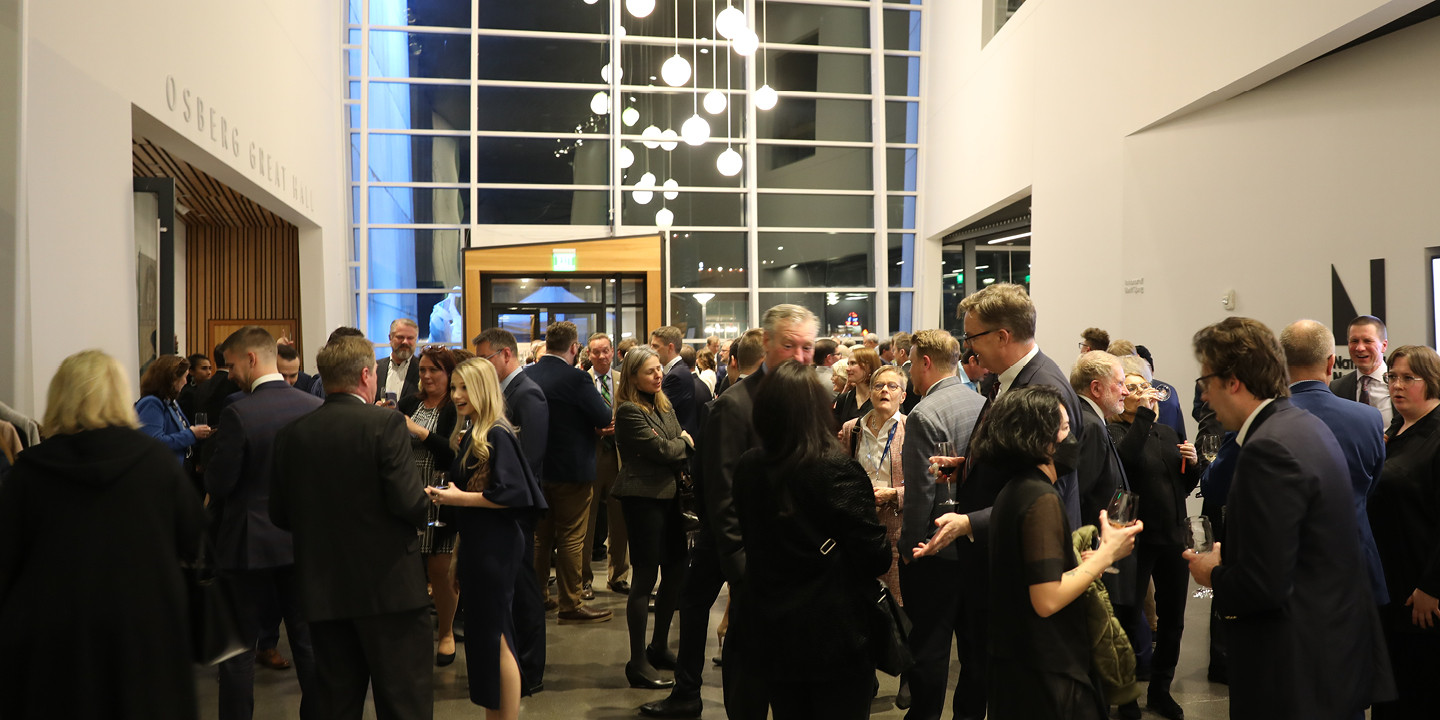 The Nordic Museum is not only about the past, it's also about the future. The facilities here are fantastic.

- Casper von Koskull, CEO, Nordea Bank AB
I was so proud to just be part of it and really reflect on the Nordic countries and what we have in common with the Pacific Northwest.

- Tuula Rytilä, Corporate VP, Microsoft Digital Stores
I just knew that this was going to be a place to find ideas, find inspiration - also encouragement to know that there are people around the world struggling with the same challenges we're struggling with and coming up with creative answers.

- Marko Liias, Washington State Senator
"Thank you for a well-executed event with world class speakers and agenda."

—Rob Balconi, Ericsson
"The Nordic Innovation Summit is really my favourite event in the US – professional, interesting, innovative, friendly and fun! I had three amazing days!"

—Cecilia Lif, Embassy of Sweden
Whether it's Finland, Sweden, Norway, you have so much innovation coming out of these small countries that's actually a fuel empowering the whole world on technology.

- Elaine Weidman Grunewald, Co-Founder, AI Sustainability Center
Seeing what's happening up here in Seattle with the ecosystem whether the university, with large corporations, with a startup scene, and that scale ups, and the venture funds, and great talents, I think we can really learn something.

- Hilde Tonne, Chief Innovation Officer, Ramboll Group
There's so much innovation and so much creation and new exciting things happening in the Nordic countries.

- Petra Hilleberg, Honorary Consul, Sweden
I think we can really learn from each other. We obviously have a number of enormous problems that need to be solved and I think looking two examples of success in other countries is very valuable.

- Tom Alberg, Co-Founder and Managing Director, Madrona Venture Group
The beauty of this summit is that you have a melting pot of startup, innovators, big corporations, people who are living in Scandinavia, the ones who are living here, sharing ideas, their experiences, best practices, learning from failures.

- Vahé Torossian, President, Microsoft Western Europe
Level One Sponsors
Level Four Sponsors
Spotlights
Sponsorship Opportunities

We partner with companies that share our vision of innovating for the greater good. If that's you, Let's chat.

Learn More

Media Inquiries

Need more information about the Nordic Innovation Summits or other events at the National Nordic Museum?

Contact Us