Watch Highlights from National Nordic Museum's 2022 Nordic Innovation Summit
This year's Nordic Innovation Summit dealt with the most important issues confronting the world today. In the wake of Russia's invasion of Ukraine, the threat of cyberattack and the need for enhanced security and energy independence looms large in the minds of government leaders and corporations. Watch and be inspired to innovate for a more stable, peaceful future.
Enjoy a must-see keynote from President of Iceland Guðni Th. Jóhannesson and watch sessions with top executives from companies like Neste, Icelandair, HackerOne, Kerecis, and more.
The 2022 Nordic Innovation Summit was in person at the National Nordic Museum in Ballard, Seattle on May 19. Full program and bios of speakers available below.

22_NIS_Keynote_Panel_PresIceland01

Keynote speech by Dr. Guðni Jóhannesson, President of Iceland
22_NIS_Panel_WorldLangHeritage02

World Language Heritage in the Platform Economy
22_NIS_Panel_NordicDEIParadox03

The Nordic DEI Paradox—Not So Paradoxical?
22_NIS_Panel_PostColdWar04

What Do We Need to Do Differently in the Post-Post-Cold War World?
22_NIS_Panel_Aviation05

The Future of Flying: Sustainable Aviation
22_NIS_Panel_GreenTransitions

"Innovating for the Green Transition" with Anniken Krutnes, Norway's Ambassador to the United States
22_NIS_Panel_FishFarming

The Finns Who are Making Fish Farming Circular
22_NIS_Panel_CircularEconomy

Circular Economy – A Winning Strategy for a Sustainable Future
22_NIS_Panel_arcticInnovation

Artic Innovation Saving Lives
22_NIS_Panel_FutureProofCities

Future Proof Cities
22_NIS_Panel_5GNAmerica

Second Wave of 5G in North America 2022-2025
22_NIS_Panel_Carbfix

Carbfix—Turning CO₂ into Stone
22_NIS_Panel_CorporateSisu

Corporate Sisu in the Face of Climate Change
22_NIS_Panel_FinancingCommonFuture

Financing for Our Common Future
Agenda
Click "Expand All" below to see the speakers.
May 18: 5pm-8pm Innovators & Investors Evening Event
Sponsored by Eyrir Venture Management, this new feature of the Nordic Innovation Summit will focus on the venture capital and startup community.

• Dr. Guðni Th. Jóhannesson, President of Iceland

Introduction
• Stefanía G. Halldórsdóttir, Managing Director, Eyrir Vöxtur4

Presentations
• Dr. Margrét Vilborg Bjarnadóttir, Founder, PayAnalytics
• Dmitriy Starson, Founder and CEO, Passio
• Ari Jónsson, CEO, AwareGo
• Melanie Schneider, CEO, Beedle
• Todd Stavish, Managing Director, SRI Ventures

• Lilja D. Alfreðsdóttir, Iceland's Minister of Culture and Business Affairs
• Ingvar Pétursson, Tech Leader, Investor, Advisor
• Isaac Kato, Managing Director, Techstars
• Moderated by Sigurlína Ingvarsdóttir, Board Member, Investor, Advisor, Eyrir
May 19: 8:45am-6:30pm Nordic Innovation Summit presented by Ericsson
Governor Jay Inslee, State of Washington
Eric Nelson, Executive Director/CEO, National Nordic Museum
Mayor Bruce Harrell, City of Seattle
Tuula Rytila, CVP, Microsoft Digital Stores
Birger Steen, Partner, Investment Team, Summa Equity, and Chair, Nordic Innovation Summit

Dr. Guðni Jóhannesson, President of Iceland

Dr. Guðni Jóhannesson, President of Iceland
Dr. Nikko Strom, Distinguished Scientist, Amazon
Arul Menezes, Distinguished Engineer, Microsoft

Dr. Margrét Vilborg Bjarnadóttir, Founder, PayAnalytics & Associate Professor, Management Science and Statistics, University of Maryland
Dr. Marie Louise Sunde, Founder and CEO, EqualityCheck.it
Moderator: Tuula Rytila, CVP, Microsoft Digital Stores

Maria Amelie, CEO and Co-Founder, Factiverse
Mårten Mickos, CEO, HackerOne
Jarand Rystad, CEO, Rystad Energy
Pekka Viljakainen, Chair, Forel
Moderator: Birger Steen, Partner, Investment Team, Summa Equity, and Chair, Nordic Innovation Summit

Chris Cooper, VP North America, Renewable Aviation, Neste
Heiða Njóla Guðbrandsdóttir, Deputy COO, Icelandair
Niklas Lund, Director, Rockton
Sami Lahdensuo, VP for Government and Institutional Relations, Finnair
Moderator: Lisa Stiffler, GeekWire, and Todd Bishop, Geekwire

Freya, Fisherman's Sun Terrace, and 3rd floor

Sponsored by the Icelandic American Chamber of Commerce

Dr. Robert Strand, Executive Director of the Center for Responsible Business and Lecturer at the Haas School of Business, University of California Berkeley

Anniken Krutnes, Norway's Ambassador to the United States

Pekka Viljakainen, Chairman of the Board, Finnforel and Ahopelto Capital Oy

Malena Sell-Myllyoja, Senior Specialist on Circular Economy, Sitra
Comments: Okko-Pekka Salmimies, Consul General of Finland in Los Angeles

Fertram Sigurjonsson, CEO, Kerecis

Mads Birgens Kristensen, Head of Urbanism, COBE
Moderator: Peter Cohan, Associate Professor of Architecture, University of Washington

Peter Linder, Head of 5G Marketing in North America, Ericsson

Katrin Steinthorsdóttir, Geologist, University of British Columbia and Carbfix
Moderator: Dr. David Battisti, Professor of Atmospheric Sciences and Tamaki Endowed Chair, University of Washington

Carrie Song, VP Sales North America, Renewable Road Transportation, Neste

Eustace Asanghanwa, Principal Program Manager, Internet of Things Security R&D, Microsoft
Tryggvi Jónsson, Technical Software Product Manager, Marel
Hjalti Þórarinsson, Vice President of Software, Marel

Jim Brisimitzis, Founder and General Partner, 5G Open Innovation Lab
Jens Molbak, CEO and Founder, NewImpact
Birger Steen, Partner, Investment Team, Summa Equity
Örn Valdimarsson, Managing Director, Eyrir
Moderator: Lars Johansson, Co-Founder and Managing Director of E8 Ventures

Birger Steen, Partner, Investment Team, Summa Equity, and Chair, Nordic Innovation Summit
Dr. Robert Strand, Executive Director of the Center for Responsible Business and Lecturer at the Haas School of Business, University of California Berkeley
Speakers
Dr. David Battisti

The Tamaki Endowed Chair of Atmospheric Sciences at the University of Washington

Bio

Dr. Margrét Vilborg Bjarnadóttir

Funder, PayAnalytics & Associate Professor, Management Science and Statistics, University of Maryland

Bio

Stefania G. Halldorsdóttir

Chairman of the Board, Voice of the People – Language Technology
Ingvar Pétursson

Board Member and Investor, Eyrir Vöxtur

Testimonials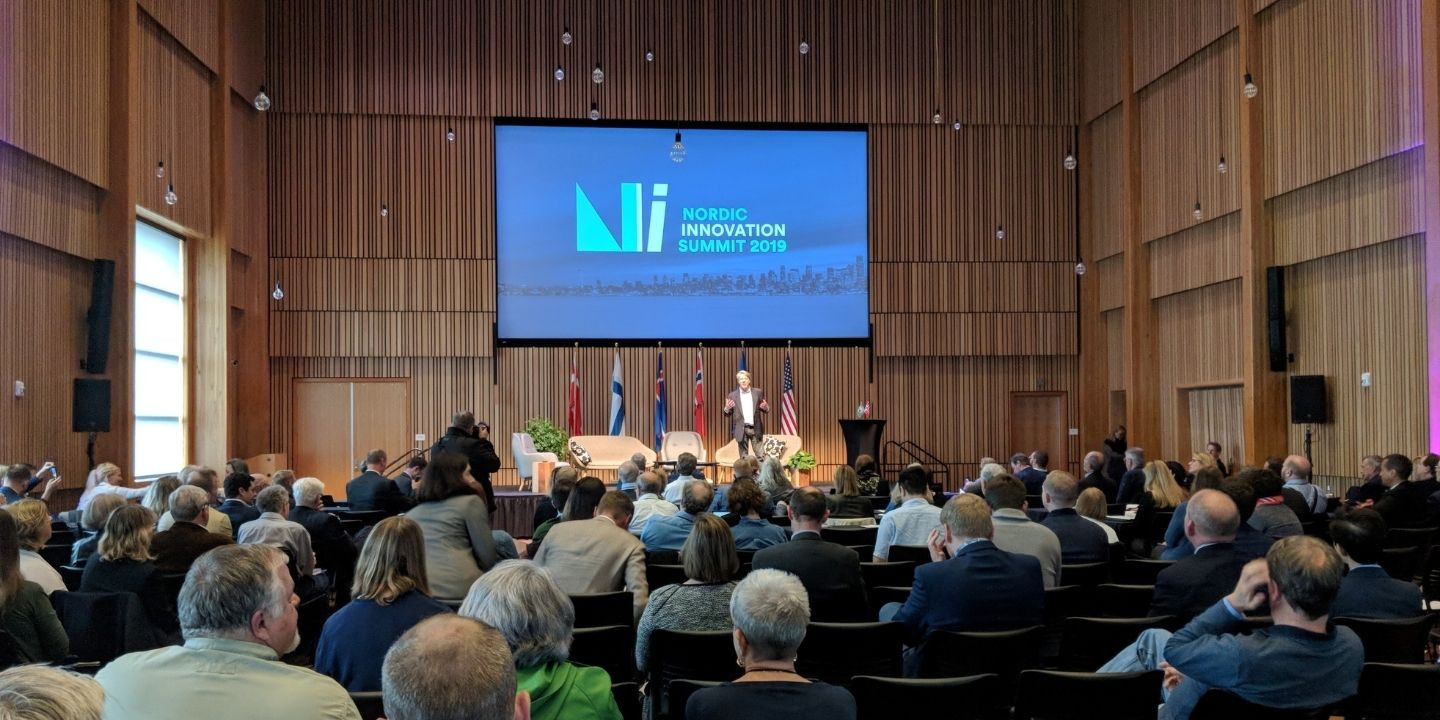 "I have had opportunities to attend /or speak in various meetings/ events, however I must say that Nordics Innovation Summit is among those that are best organized and will be one of those that I will remember with a great participation experience! Congratulations for an excellent summit! Thank you for inviting Neste and for having me in the event. Looking forward to another opportunity to meet again in the future!"

—Carrie Song, Neste
"The Nordic Innovation Summit is really my favourite event in the US – professional, interesting, innovative, friendly and fun! I had three amazing days!"

—Cecilia Lif, Embassy of Sweden
"Thank you for a well-executed event with world class speakers and agenda."

—Rob Balconi, Ericsson
Spotlights
Sponsorship Opportunities

We partner with companies that share our vision of innovating for the greater good. If that's you, Let's chat.

Contact Us

Media Inquiries

Need more information about the Nordic Innovation Summits or other events at the National Nordic Museum?

Contact Us