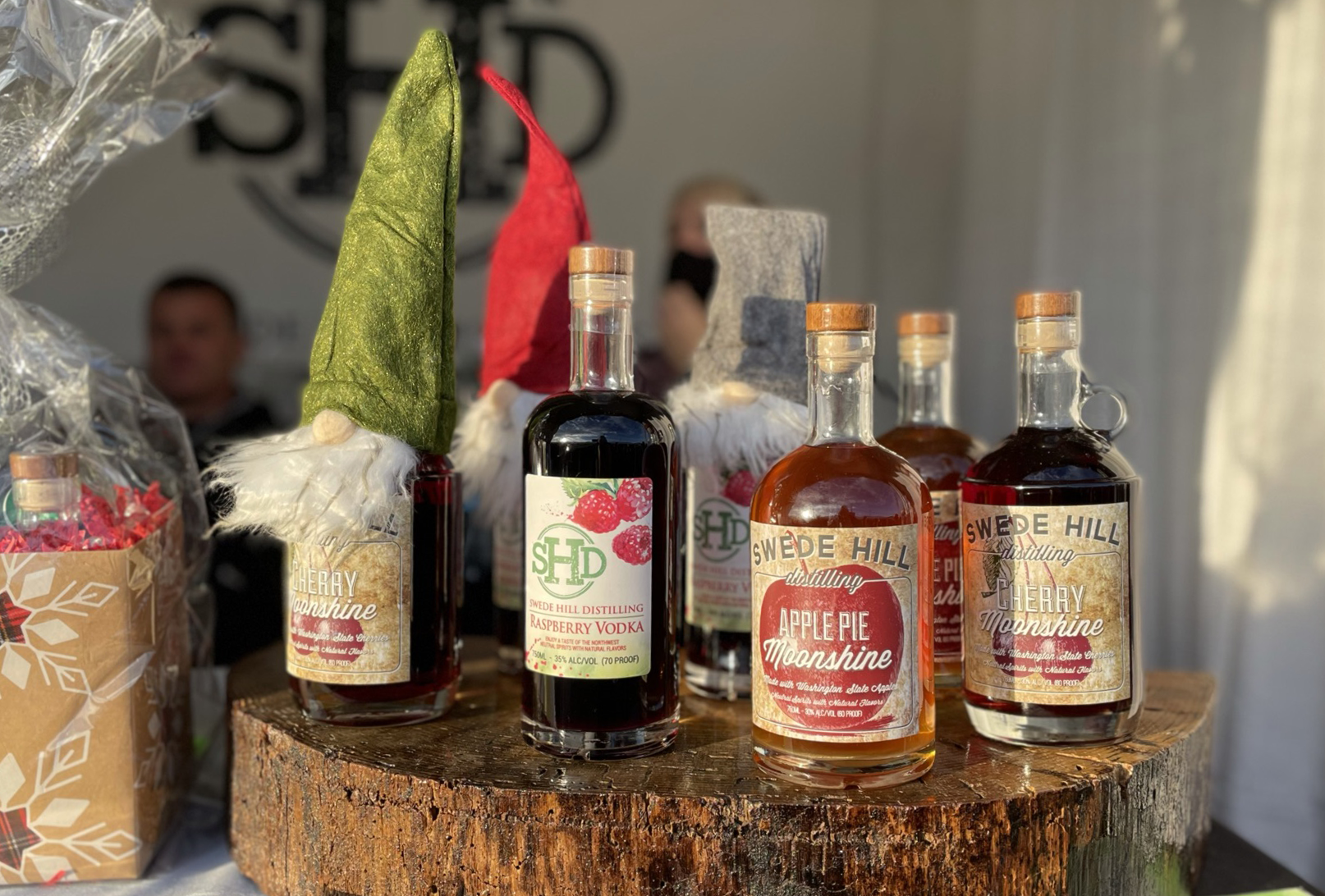 Welcome to the National Nordic Museum's 45th Annual Julefest! We can't wait to show you around our version of a traditional Nordic outdoor Christmas market (with a PNW twist!). Browse through the list and gallery below for a sneak peak at shopping and food opportunities to come.
Along with our Nordic Christmas market, there will be live entertainment (see list of musicians below) in the Valhalla Beer Hall and roaming throughout the Julefest grounds. We are also expecting Santa! Look for him on the Museum's second floor. See you November 19 and 20!
Tickets for Julefest may be purchased ahead of time at nordicmuseum.org/julefest or at the event.
Vendors
Alcohol
Apparel
Commercial
Craft
Pammy's Attic - handcrafted gnomes/charcuterie boards

Judy's Painted Treasures - rosemaling and Christmas hand-painted wood items

Paper Cut - paper art

Scandinavian Hearts - stickers, ornaments, earrings, and tote bags

Maddy's Crafts - gnomes, paintings, cards, etc.

Freddy's Real Leaf Gifts - real leaves dipped in gold, silver, and copper for ornaments, jewelry, etc.

Michael Holberg Glass - glass trees, gnomes, ornaments, Vikings, snowmen, etc.
Kos Candles - Norwegian inspired candles and gifts

Swedish Dream - Scandinavian-themed watercolor prints

Cooper Art and Abode - art prints, blankets, stickers, etc.

Bjoern T.M. Larsen - Danish painter

Elizabeth Person Art & Design - watercolor maps and charts of local area, cards, stickers, and art prints

Food Trucks
Home Goods
Jewelry
Prepared Food
The Museum Store will be open throughout Julefest with Christmas decorations, Nordic candy, gifts, and more!
Musicians
Bjarne Jacobsen
Duet Friends
Hjarta Herring
Karusallen
Metro Gnomes Skandia
Nordic Spirit
Seattle Skandia Spelmanslag
Skandia Kappel
Sprida Ut
TinnFelen
Winters Band
Julefest For Kids
Activity Books—pick one up at our Visitor Services desk for free!
Tomte Hat Drop-in Craft (with adult)—stop by Classroom 2 for this fun and festive activity
Santa—come grab a photo with Santa Claus! He'll be in the Cultural Resource Center all day, both days.
Visit a Viking Ship in the East Garden!
Nordic Music for Kids—held in Classroom 1. Pick a slot from the following: Saturday, 1:30pm & 2:30pm or Sunday, 12:30pm & 2:30pm.

SOLD OUT: waitlist first come, first serve.

About: Calling all kids! Here's your chance to get up close and personal with Nordic musicians as they introduce the instruments and music that have been part of the Nordic traditions for generations. Join local musicians as they show you what makes Nordic traditional instruments so special and unique, and listen as they play just for you. When the presentation is over, take a scavenger hunt through the Museum galleries to see wonderful items from the Collection that speaks to the tradition of music in our community. Learn more about our instructors below:
Phil Wilkinson
Phil first started playing piano at age 8. By 10 he had moved onto the violin in school, with a focus on classical music. He earned a science degree from the University of Washington and worked in a Radiocarbon Dating Laboratory for 20+ years. He joined Seattle Skandia Spelmanslag in 1996 and fell in love with Skandia Music. With Marissa Villemain, they founded TinnFelen Hardanger Fiddle Ensemble in 2003 for Hardanger Fiddles. Some years later they start a companion group Karusellen, for "C" instruments. He loves playing and regularly performs for Skandia dances, Sons/Daughters of Norway events, Pancake Breakfasts, and Museum events.
Kris Johanson
Kris started playing violin in the 3rd grade. He was involved in music/singing much earlier as his family got together with other families and had hootenanny's together. He has played classically all the way through college at Western Washington University. Since his graduation he has put all his efforts in playing folk music, mostly Scandinavian which is of his heritage. He has performed at Sydney Opera House in Sydney, Australia. He has taught Scandinavian music to children for at least 8 years as the director of the Seattle Scandia Lilla Spelmanslag out of the Nordic Heritage Museum at that time. He loves working with kids.
"I aspire to inspire before I expire." —Kris
Marissa Villemain
Marissa first started playing violin at a young age as a result of a "new" program in the U.S.A., the Suzuki Method, brought to SIUE by John D. Kendall. The university brought early morning classes to public schools and her mother took full advantage of introducing and supporting this opportunity to her. Playing classical music through high school, she was also influenced by much folk art and folk music growing up at home. Upon completing her degree in Graphic Design from the California College of the Arts in San Francisco, she later moved to Seattle where her violin came out of her case after a long hibernation. She found not only the love of playing for Scottish dances, but the world of Scandinavian music. In addition to her eclectic heritage, her ancestral research thrilled her as she found ties to Sweden and Norway. Marissa can be found in the Seattle public schools supporting Special Education Students in Ballard, or around town playing for dances and events that often include the groups TinnFelen (playing hardangerfele), Karusellen, Hjarta of Herring, The Metro Gnomes and the contra group of Sound Crossing. She enjoys playing as often as possible!
Jean Geiger